Take Action
Make a Submission to the Housing Commission Today
The Housing Commission have launched a public consultation seeking views on a Referendum on Housing in Ireland. The consultation asks submissions to consider whether there should be a constitutional amendment and if so what form it should take.
Home for Good need your help. This submission is an opportunity to have your voice heard and ensure housing becomes a constitutional right: we are calling on you to make a sumission today.
Here's how you can get involved:
Send an email to the Housing Commission at ConsultHC@housingcommission.gov.ie before September 2nd requesting for:

the Referendum to lead to the right to housing
the Housing Commision use the recommended wording developed by Home for Good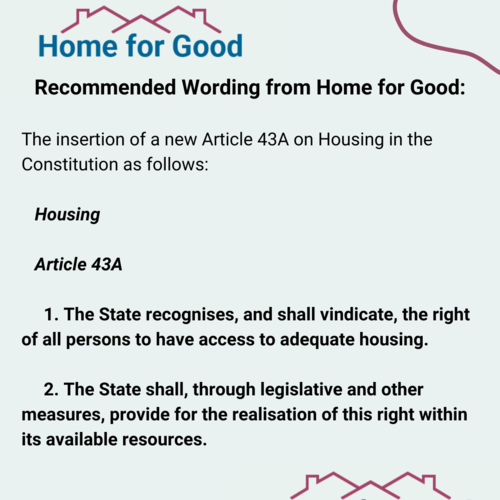 Although the Government has committed to hosting a referendum on housing, there is no commitment that the referendum will lead to a right to housing. This is a very important distinction that needs clarity now.
Find Out More
Read Home for Good's Submission
Our submission reiterates our belief that believe that Constitutional change is an essential underpinning for any successful programme to tackle our housing and homelessness crisis.
Catch-up with our webinar
Home for Good hosted a webinar on August 25th to explore the need for a constitutional right to housing and explain how you can get involved by making a submission.